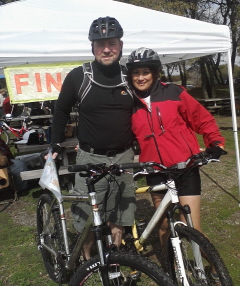 MTB-O Finishers Jacob
and Annaliza Henriksen
Granite Bay
March 25, 2012
By Paul Keeton
Event Director
Orienteers descended upon the beautiful shores of Folsom Lake for a fun-filled day of Orienteering, including mountain bikers for the first time.
The rain held off, making for perfect conditions.
The courses were done by Mats Jansson, who did an excellent job setting courses that were neither too difficult nor too easy. Everyone had a great time, and all of the mountain-bike surveys indicated that they enjoyed the new courses.
A big thank-you goes to all of the volunteers (Dan, Jennifer, Jonas, Mats and Emma, Dave, and Eric) who made this event happen. They made my job much easier. Without volunteers, these events wouldn't take place. Thank you again.
RESULTS
WHITE (2.3 km, 8 controls)
1. Susan Bower 31:35
2. Tony Clayton GCO 34:03
3. Traci Wilson GCO 40:38
4. Teresa Schredl 45:12
5. Elsa and Ida Voegele BAOC 47:56
6. Sharon French 48:45
7. Sarah Miller 56:24
8. Jennifer Jimenez 61:12
9. Kelly McCutcheon 62:33
10. Ellen Unsworth GCO 64:33
SECOND COURSE
Roy Malone GCO 39:31
YELLOW (3.2 km, 12 controls)
1. Gavin Malone GCO 55:22
2. Kyle Poland 82:34
3. Ken Roe GCO 85:07
4. Bryce Turnipseed 89:49
5. Ryan Sleeth 93:36
6. Danielle Blacet 120:33
Tim Godwin DNF
SECOND COURSE
Teresa Schedl 66:54
ORANGE (4.3 km, 12 controls)
1. Bill Voegele BAOC 57:02
2. Harold DeMoss BAOC 57:30
3. Craig Devita GCO 64:57
4. Rod Sorenson 72:17
5. Olga Kraght BAOC 74:38
6. Tim Akin 80:02
7. Team BS GCO 86:58
8. Steve Boitano 94:13
9. Eric Dragland 119:16
10. Kevin Walker BAOC 127:07
SECOND COURSE
Susan Bower 95:10
Sharon French 138:15
BROWN (3.8 km, 10 controls)
1. Anna Voegele BAOC 41:30
2. Ryan Funk 59:10
3. Jennifer Kerr GCO 94:21
4. Paul Keeton GCO 110:04
SECOND COURSE
Eric Dragland 102:37
GREEN (4.8 km, 13 controls)
1. Marie-Josée Parayre BAOC 73:26
2. Phil Mosbacher 84:33
3. Johanna Merriss BAOC 96:37
Steven Duke DNF-Lost Card
RED (5.9 km, 16 controls)
1. Dan Rathbun GCO 52:49
2. Jonas Libell GCO 58:44
3. François Leonard BAOC 60:31
4. Stephen Harrison BAOC 70:01
5. Gary Kraght BAOC 75:22
6. Penny DeMoss BAOC 75:56
7. Roy Malone GCO 76:13
8. Paul Regan HVO 76:30
9. Jeff Sterett GCO 94:43
10. Ryan Zahner GCO 95:01
11. Alan Walls GCO 101:14
12. Terry Szucsko and Linda Stewart 125:29
13. Will White 188:02
14. Jinni Guinard 191:28
Jeff van Horne DNF
Lu Saelee DNF
SECOND COURSE
Michael Chastaine GCO 85:57
MOUNTAIN-BIKE SHORT (3.9 km, 8 controls)
1. Jacob and Annaliza Henriksen 62:42
2. Mark and Sue Ingalls 68:12
SECOND COURSE
Daniel Whitehorn 18:56
MOUNTAIN-BIKE MEDIUM (6.9 km, 15 controls)
1. Rob Wright 78:20
2. Daniel Whitehorn 109:46
3. Joe Akin 124:47
4. Danny Lulla 185:16
SECOND COURSE
Jonas Libell GCO 51:20
MOUNTAIN-BIKE LONG (10.8 km, 23 controls)
1. Michael Chastaine 73:22
2. David Harrison BAOC 93:56
3. Lee Sorenson 103:20
4. Glenn Hermanson GCO 123:36
5. Norbert Wagner GCO 134:21
6. Connie van Horne 142:14
7. Don Rose 151:57
8. Vida Morhain 176:20
Scott Bower GCO DNF
Participants:
White: 31
Yellow: 21
Orange: 18
Brown: 6
Green: 4
Red: 29
Mountain-Bike Short: 5
Mountain-Bike Medium: 5
Mountain-Bike Long: 11
Total: 130
Back to Results