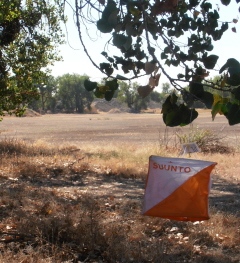 Mississippi Bar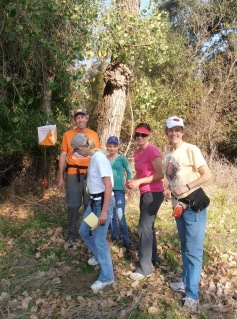 Orienteers at Mississippi Bar
Mississippi Bar
Nov. 18, 2012
By Paul Keeton
Event Director
First of all, a thank you to all of the volunteers who were here and made this such a successful event.
It turned out to be a beautiful day, despite the forecast of rain. Dan Rathbun did an excellent job in setting the courses. In a departure from other meets, the most popular courses were the Orange and Red.
The competition was particularly fierce on the Red course, with GCO's Jonas Libell posting the fastest time of 66:26. The winner on the Orange course was BAOC's Olga Kraght, with a time of 57:36. Blair Hickman was the winner on the Brown course with a time of 111:51. There were two other faster times, but they were done as second courses.
The fastest time on the Yellow course was turned in by Sal Sanchez and his JROTC Unit from Rio Linda high school, with a time of 41:11. Bill Donovan, along with Abby and Jack, had the fastest time on the White course, completing it in 45:01.
Congratulations to all of the participants, who came out and had fun in the sport of Orienteering!
RESULTS
WHITE (2.0 km, 8 controls)
1. Bill Donovan 45:01
2. Leilani Hall 55:33
3. Alex Gaball, Oscar Fuentes, David Arnell (JROTC) 56:54
4. John Steele 63:39
5. Linda Paumer 64:34
6. Tim and Titus Libell (GCO) 77:02
7. Jeanette Leonard 119:14
Sebastian and Paloma DNF
YELLOW (2.3 km, 9 controls)
1. Sal Sanchez, Kevin Mains, Kyle Draper (JROTC) 41:11
2. Lara Paskins (GCO) 53:23
3. Robert Sanchez, Osmar Bodarte (JROTC) 59:43
4. Merced Aguirre, Edward Angulo, Adrian Pruneda (JROTC) 88:40
5. Sonja Renhult 96:27
6. Chris Seagers, Martha Gutierrez, Jasmine Castillo (JROTC) 101:15
7. Jeramiah Chadwick, Steven Doyle, Crystal Young (JROTC) 101:28
8. Randie Sanchez, Melinda Lee, Maleek Sanchez (JROTC) 103:59
9. Robert Valenton 104:08
10. Mark Spiller 129:36
SECOND COURSE
Norbert Wagner (GCO) 53:42
Leilani Hall 85:41
Linda Paumer DNF
ORANGE (4.0 km, 11 controls)
1. Olga Kraght (BAOC) 57:36
2. Anthony Mistry (GCO) 68:50
3. Frank Slattery 69:35
4. Jennifer Kerr (GCO) 86:11
5. Nigel Killeen (ROC-South Africa) 95:32
6. Harold DeMoss (BAOC) 96:16
7. Florin Tigers (JROTC) 96:39
8. Bob Bruns (GCO) 103:58
9. Jeff Sterett (GCO) 106:22
10. Florin Panthers (JROTC) 108:44
11. Victoria Harris (GCO) 120:15
12. Norbert Wagner (GCO) 124:40
13. Howard Louie 127:41
14. Kevin Walker (BAOC) 127:48
15. Luis Sotelo, Bradely Fair, Orion Xiong (JROTC) 129:17
16. David Robinson 130:16
17. Brothers in Arms (JROTC-Florin HS) 155:57
SECOND COURSE
Robert Sanchez (JROTC) 70:38
BROWN (5.1 km, 14 controls)
1. Blair Hickman 111:51
2. Derek Daun 133:31
3. Shaylan Lambert, Santana Sotelo, Anthony Desouza (JROTC) 151:39
Anthony Davis, E. Ruiz, Baldwin (JROTC) DNF
Paul Keeton (GCO) DNF
SECOND COURSE
Frank Slattery 86:13
Jeff Sterett(GCO) 109:22
RED (5.7 km, 16 controls)
1. Jonas Libell (GCO) 66:26
2. Kyle Peter (BAOC) 71:26
3. Andrew Peterson (BAOC) 80:57
4. Graham Brew (BAOC) 86:37
5. Roy Malone (GCO) 87:49
6. Penny DeMoss (BAOC) 87:54
7. Gary Kraght (BAOC) 100:55
8. Garret Bean 113:11
9. Bob Cooley (BAOC) 118:12
10. Hermelindo Rubio, Cameron Smith (JROTC) 122:39
11. S. Shangurova, Lopez, Riddle (JROTC) 126:34
12. Christine Brew (BAOC) 127:51
13. Ryan Zahner (GCO) 128:36
14. Aaron Woolen, Cierra Crawford, Leilani Blanco (JROTC) 137:02
15. Charles Cummings 148:30
16. Michael Chastaine 156:21
SECOND COURSE
Sal Sanchez (JROTC) 88:23
Participants:
White: 22
Yellow: 35
Orange: 37
Brown: 13
Red: 25
Total: 132
Back to Results