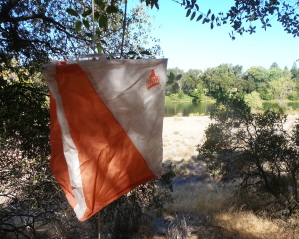 River Bend Park
River Bend
Sept. 9, 2012
By Jennifer Kerr
Event Director

Our National Orienteering Day (NOD) meet resoundingly met its goal of introducing people to our favorite sport: Seventy people came for the beginning White course, almost all of them new to Orienteering. We had nearly non-stop beginners' instructions for them! It was great to see all the families who participated!
Although it was yet another hot, 90-plus day, our turnout hit 121. Besides the newcomers, there was also a hardy contingent of BAOC and GCO regulars who ran Orange.
For NOD, all the kids who finished a course got a special orange ribbon and a lollipop. The adult prize, a free, one-year membership to Orienteering USA, goes to GCO's Roy Malone. He finished fourth on Orange and was the fastest person on that course who was not already an OUSA member (a requirement for the prize).
GCO's Kiki Weber (the national F-10 champ last year) won the White course in 29:00. Frank Slattery and Maria Thompson were tops on Yellow in 37:10, then tackled Orange with a respectable 92:26. Tops on Orange was Rex Winterbottom of BAOC and terraloco in 41:14.
I must, of course, thank my volunteers, who sat in the heat all day and made this meet possible:
Jill Van Houten for Registration and Control Pickup
Norbert Wagner for Setup, Starts and Control Pickup
Jonas Libell for Starts and Control Pickup
Marsha Jacobs for Finishes
BAOC's Bob Cooley for printing the maps
Jeff Thompson, the original course-setter, for preliminary work on courses and the map before his hand surgery.
RESULTS
WHITE (2.3 km, 18 ft., 13 controls)
1. Kiki Weber GCO 29:00
2. Saejin Yi, Kathleen Chao CSUS 36:03
3. Michael, Bill Vernau BS Troop 139 43:55
4. Noah Winters, Karen, Jayden Buendia 47:17
5. Lara Paskins, Chad, Cole, Elliott Berryman GCO 49:47
6. Dan, Austin Hoover, Sean Keehn, Dylan Mont, Tom Marcinek BS Troop 645 51:56
7. Brian Meux 52:32
8. Willow, Dan Rathbun GCO 55:41
9. Heenesh Patel, Micah Stevenson CSUS 56:29
10. Alison Weber, Lauren Wemmer GCO 57:55
11. Michael Spiteri CSUS 58:47
12. Jessica, Sue Roi CSUS 59:51
13. David, Jenny, Freya, Siri, Torsten Robinson 61:09
14. David, Josh Friedman, Hugh Osborn, Chase Wesslink, Jared Trapp, Aiden Burrell BS Troop 645 63:08
15. Om Ojydia BS Troop 134 63:45
16. Tami, Jake Snodgradd, Kathy Fower BS Troop 134 67:02
17. Scott, Danielle Beutelschies 72:20
18. Hawks: Kyela, Jaymah, Aliyssa, Anela GS Troops 66, 965, 1970 73:14
19. Elissa, Jeremy LaBelle CSUS 75:09
20. Tim, Titus Libell GCO 75:27
21. Cedric, Karin, Nathaniel, Alexandra Green 82:00
22. Wolves: Christine Lam, Molly Westlake, Chloe Look, Jasmine Jones, Salma Slade GS Troops 66, 965, 1970 86:12
23. Eric, Marina, Anthony Bragas 89:30
24. John, Renee, Rachel Drake Sierra Survival School 112:02
John Kok, Brittney Elliott CSUS DNF (#8)
Beatrice Harrison DNF (#3,4)
YELLOW (3.4 km, 42 ft., 11 controls)
1. Frank Slattery, Maria Thompson 37:10
2. Jeff, Kristin, Sophie Sterett, Camden Malone GCO 67:18
3. Howard, Lillian Louie 68:57
4. Diana Gudeman 69:45
5. Mark, Joan Savarese 82:00
6. Bob, William Gustafson 90:12
7. Kyle Herman CSUS 98:10
8. Mark Spiller 99:36
9. Charles, Ellen, Torunn, Steen Unsworth GCO 105:58
10. Jael Young, Alicia Taylor CSUS Peak Adventures 127:28
SECOND COURSE:
Rex Winterbottom BAOC 20:07
Steve Gregg BAOC 23:37
Norbert Wagner GCO 60:23

ORANGE (4.3 km, 66 ft. 15 controls)
1. Rex Winterbottom BAOC 41:14
2. Steve Gregg BAOC 42:59
3. Niklos Weber GCO 43:55
4. Roy Malone GCO 46:50
5. Gary Kraght BAOC 52:38
6. Greg Ehrensing BAOC 60:00
7. George Minarik BAOC 68:14
8. Christine Brew BAOC 72:10
9. Vicki Woolworth BAOC 75:52
10. Anthony Mistry GCO 78:36
11. Leslie Minarik BAOC 81:55
12. Team BS Speed Unit GCO 91:19
13. Olga Kraght BAOC 91:50
14. Graham Brew BAOC 93:28
15. Victoria Harris, Debbie Ruckman, Charlie Kharsa, Brian Jones BAOC, GCO 95:02
16. Norbert Wagner GCO 96:13
17. Whitney Meno, Steve Brennan 107:00
18. Joan Roos BAOC 114:57
19. Jane Slavensky, Meredith Budlong, Jessica Tietjen CSUS Peak Adventures 132:45
Kevin Walker BAOC DNF (#8-15)
Brian Yoshimizu, Beka Bolger CSUS Peak Adventures DNF (#10-12)
Johanna Merris BAOC MP (#4)
SECOND COURSE
Jeff Sterett GCO 71:32
Frank Slattery, Maria Thompson 92:26
Brian Meux 107:12

Participants:
White: 70
Yellow: 21
Orange: 30
Total: 121
Back to Results