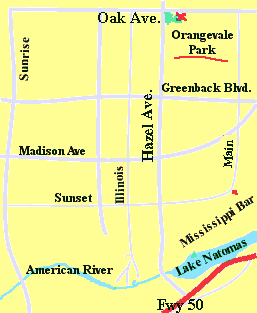 Orangevale Community Park
Orangevale Community Park is about half-covered with oak trees and in places the undergrowth is somewhat dense. A stream runs through this park and presents some interesting challenges.
This park has a Frisbee golf course, playground, picnic area, horse-training area, and various sport fields. Though small, the variety in this park makes for interesting courses and is suitable for beginning and easy intermediate courses. This is an excellent site for fun, beginners, training, and is great for brushing up on O-skills
Directions: From Highway 50 east of Sacramento, take the Hazel Avenue exit. Go north on Hazel (across the freeway and the river) about 4.25 miles and turn right on Oak Avenue. Go to the first stop sign and turn into the park. From Highway 80 in Roseville, take Sierra College Boulevard exit south. Take Sierra College to Oak Avenuie. (Sierra College becomes Hazel when you leave Placer County) and turn left on Oak as above.
Orangevale Community Park is part of the Orangevale Recreation and Park District..
Back to Sites