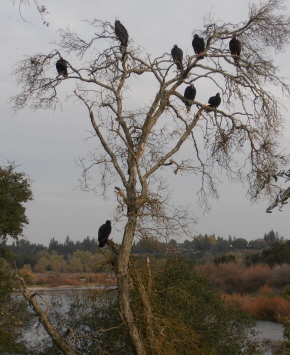 Turkey vultures waiting for faltering
Orienteers (Sacramento Bar across
American River)
Sacramento Bar
Sacramento Bar is one of the many areas along the American River Parkway where heavy gold dredging resulted in piles and piles of river rocks. Now that it's part of the magnificent American River Parkway, it's a serene and surreal area with trails, ponds and lots of nature.
Sacramento Bar, on the north bank of the American River in Fair Oaks, was the last gold dredging area along the river; dredging machines, which scooped up tons of river rocks looking for gold chunks and flecks and left behind the intimidating piles, operated until 1962. Across the river, and the modest San Juan Rapids, is Rossmoor Bar.
This area was partially mapped along with Rossmoor. It is a fairly small area, with lots of big and little trails and some lovely ponds, but it also has some challenging terrain with all those rock piles.
This area is often inaccurately referred to as Bannister Park, part of the Fair Oaks Parks and Recreation District. The latter is a tiny park with a sports field, parking lot and restrooms adjacent the Parkway near Sacramento Waldorf School. Many people park in Bannister to access Sacramento Bar.
Directions: From the south, west or east, take Highway 50 to Sunrise Boulevard. Go north over the river to Fair Oaks Boulevard. Go left and then almost immediately left again on Pennsylvania. Take that to River Road and into the park, paying a $5 fee. From the north, take Sunrise to Fair Oaks Blvd. and follow above instructions. Alternate: Park (same fee) in the Lower Sunrise Recreation Area on the south side of the river, just off Sunrise, and walk over Jim's Bridge (left over from former granite-mining efforts along the river and now a pedestrian/bike bridge).
Here is Sacramento County parks information about Sacramento Bar.
Back to Sites